Slovakia to start Covid-19 start on everyone
4 min read
Slovakia is to start testing everyone over the age of 10 for Covid-19 on Saturday, but the president has said she thinks the idea is "unfeasible".
The operation to test four million people is to last over two weekends.
Infections have soared in Slovakia and officials argue the only alternative would be a total lockdown.
President Zuzana Caputova called for the plan to be delayed after armed forces chiefs said there were not enough trained health workers to do it.
So far only 70% of the 20,000 staff needed to administer the nasal swab tests have been recruited, according to the defence minister.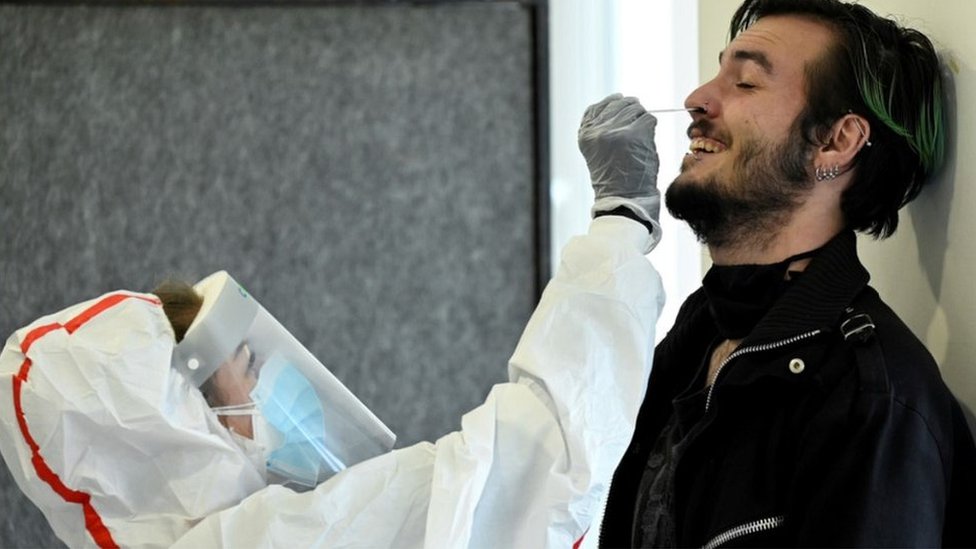 Slovakia recorded 3,363 new infections on Thursday, bringing the total since March to 55,091. A total of 212 have died.
'There's no alternative'
From dawn on Saturday, soldiers and medics were due to fan out across the country, from the vast Petrzalka housing estates of Bratislava, to tiny hamlets in the shadows of the Tatra Mountains, to the mostly Hungarian-speaking towns dotted along the Danube plain.
The plan is to test almost four-fifths of the population, using rapid antigen testing that has an estimated 30% false negative rate. Results will be delivered in a sealed envelope within 15 minutes.
"It's the army's biggest logistical operation since the country became independent," said Defence Minister Jaro Nad.
"In terms of the pandemic we're in a worse situation than the Czech Republic, but we're two or three weeks behind," he told me. He said he had been put in charge of the national operation after a pilot project in four counties in northern Slovakia had been judged a success.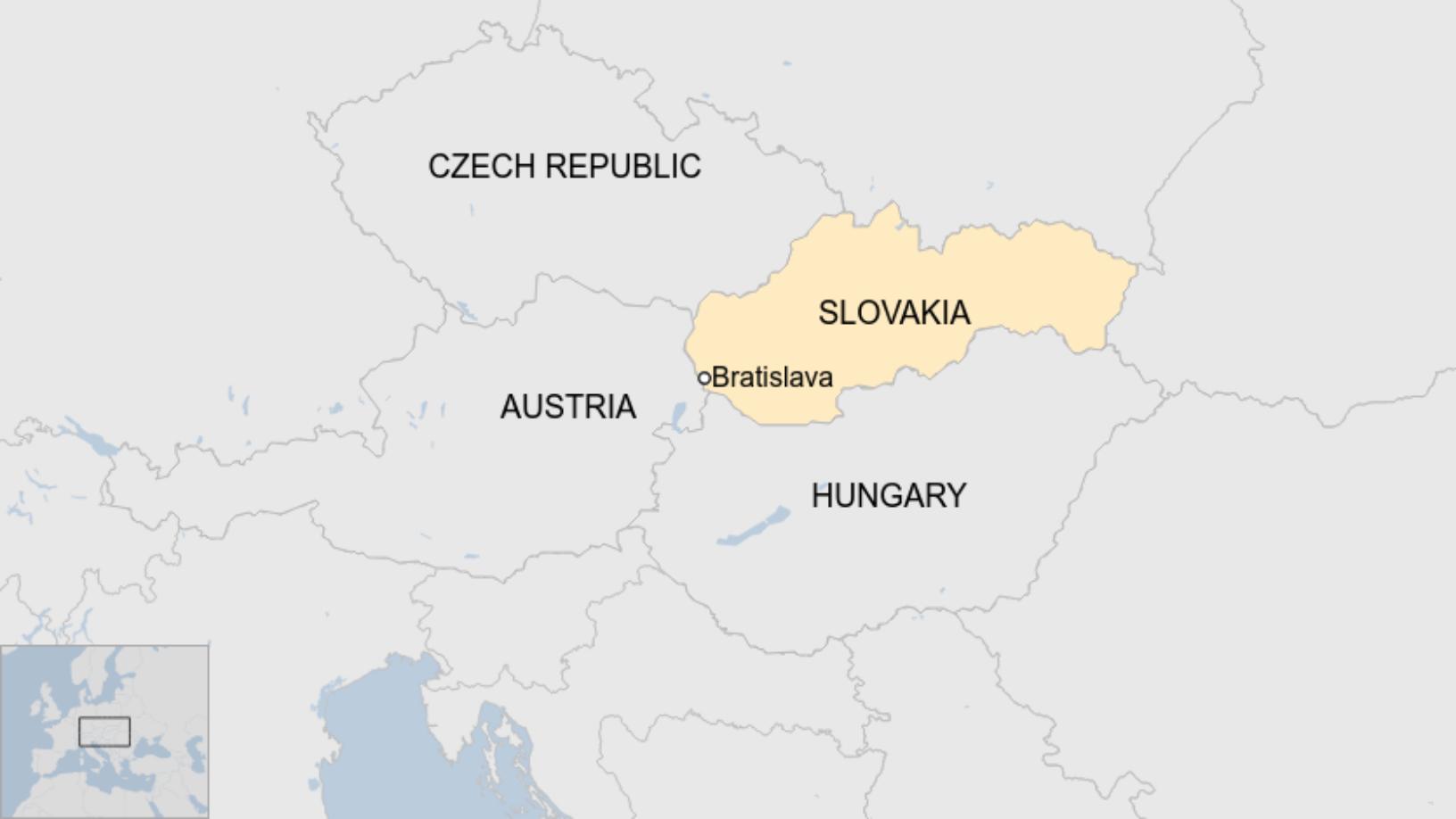 The neighbouring Czech Republic, with twice the population, recorded 13,051 new infections on Thursday, bringing its total to 310,068. Some 2,862 people have died, and the mortality rate in the past two weeks is the highest in the EU.
Slovakia's numbers are far lower but government modelling predicts a catastrophic overload of hospitals by mid-November if nothing is done.
"There's no alternative – it's either mass testing or harsh lockdown," Mr Nad told the BBC.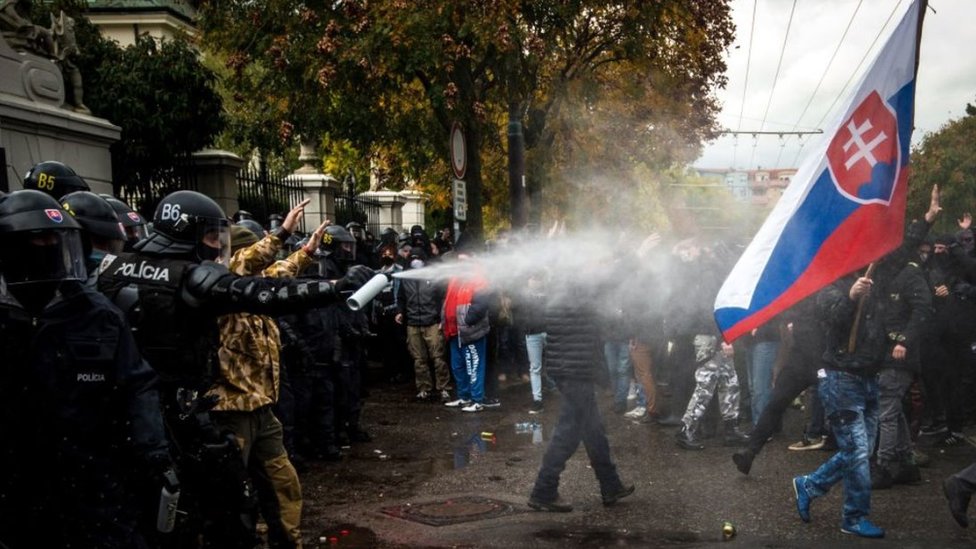 Why antigen tests?
The standard diagnostic tool for Covid is PCR tests (polymerase chain reaction), which detect the presence of the virus's RNA – its genetic material. PCR tests are fairly sensitive, offering perhaps 90% accuracy, but they are slower and more expensive.
Antigen tests detect the presence of coronavirus proteins. While they are quicker, they are also less accurate, producing high false negatives – around 30%, depending on the type of test used.
However, the defence minister said that in the current situation they were by far the best option.
"It's actually a fantastic number – if you take into account that you're identifying 70% of sick or infected people across the country," said Mr Nad.
"You then send them home so they don't come into contact with other people and spread the infection further."
"There's no better alternative if you want to find thousands and thousands of people who are currently infected but don't know it."
Each test result, handed out in a sealed envelope within 30 minutes, will contain a leaflet explaining what to do next if positive – go home, self-isolate and call your doctor.
"Most of them will be healthy after 10 days. Some of them will probably end up in hospital. But they'd end up in hospital anyway," Mr Nad told the BBC.
However, the operation is now the source of intense criticism at the highest levels.
While testing is voluntary, those who refuse must self-isolate for 10 days. Breaking that quarantine will be punished with a hefty fine.
A negative test result, however, will serve as a "free pass" from a curfew due to be introduced from Monday.
'Idea born out of despair'
President Caputova called the curfew measures "divisive", saying that such categorisation of citizens was "the last thing we need at the moment".
And the sheer scale of the operation has aroused some scepticism.
"Two days before they're due to start and they don't have enough people for the testing. It looks impossible," said Matus Kostolny, editor-in-chief of the daily Dennik N.
Others were more understanding.
"Yes, it's an idea born out of despair. But no-one in Europe seems to have a solution of how to flatten the curve of new infections during this second wave," said Pavol Strba, foreign news editor at online daily Aktuality.sk.
If it works, other countries might soon follow suit.
The defence minister told the BBC that the Slovak government had received a call from an adviser to UK Prime Minister Boris Johnson, asking them to share information both from the pilot project and the two weekends.