Jacob Blake shooting Leads to US Sports Postponement
4 min read
A host of US sports games were postponed for a second straight day in protest at the shooting of Jacob Blake.
Blake, a black man, was shot seven times in the back by police on Sunday in Kenosha, Wisconsin near Milwaukee.
The NBA has postponed Thursday's play-off games after Wednesday's fixtures were called off following a player walkout.
NBA executive vice president Mike Bass said the league was "hopeful to resume games either Friday or Saturday".
For the second straight night, three MLB games were also postponed.
The NHL announced that four games scheduled for Thursday and Friday had been called off as well.
The WNBA postponed Thursday's games having done the same a day earlier.
NBA held meetings on Wednesday and Thursday in their bubble in Florida.
Bass said a video conference call would take place later on Thursday which will include players, team governors and representatives from the league office "to discuss next steps".
US President Donald Trump said on Thursday that the NBA has become "like a political organisation" while senior adviser Jared Kushner, Trump's son-in-law, added that he intends to invite the Los Angeles Lakers star LeBron James to the White House to discuss solutions to racial injustice.
"I think that it's nice that they're standing up for the issue, but I'd like to see them start moving into concrete solutions that are productive," he told Politico. "And again, President Trump in this White House is willing to work with them."
Sports across the US boycotted games on Wednesday, which began with the Milwaukee Bucks choosing not to play game five of their play-off series against the Orlando Magic.
Besides the three NBA and three WNBA games being called off, three MLB and five MLS fixtures were postponed on Wednesday.
Seven NFL teams cancelled practice on Thursday while Japanese tennis player Naomi Osaka pulled out of a WTA match in New York.
She tweeted that she would no longer play her semi-final in the Western and Southern Open in New York, saying that "as a black woman I feel as though there are much more important matters at hand that need immediate attention, rather than watching me play tennis".
The US Tennis Association, ATP and WTA subsequently announced it was pausing play at the Western and Southern Open on Thursday and would resume on Friday, adding that "tennis is collectively taking a stance against racial inequality and social injustice".
Former world number one Osaka later confirmed she would play her semi-final against Belgian 14th seed Elise Mertens on Friday, thanking the governing bodies for their support and adding in a statement: "I was [and am] ready to concede my match to my opponent.
"However, after my announcement and lengthy consultation with the WTA and USTA, I have agreed at their request to play on Friday. They offered to postpone all matches until Friday and that in my mind brings more attention to the movement."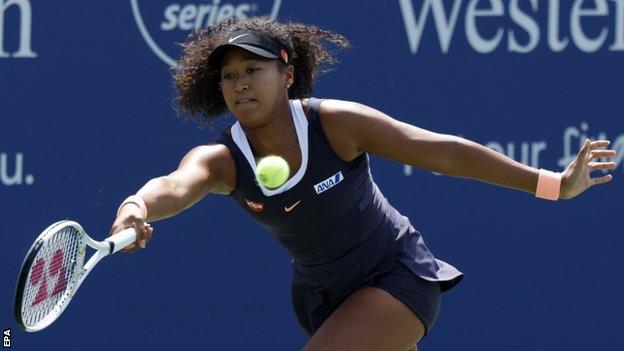 The WNBA postponed all three games scheduled for Thursday after Wednesday's three games, due to take place in the bubble in Bradenton, Florida, were also called off.
"Information regarding rescheduling of yesterday and today's games will be provided when available," read a WNBA statement on Thursday.
The night before, players linked arms on court, with a group wearing T-shirts that spelled out Blake's name and also seven holes in them representing how many times he was shot by police.
"We stand in solidarity with our brothers in the NBA and we continue this conversation with our brothers and sisters across all leagues and look to take collective action," said Atlanta Dream's Elizabeth Williams in a statement on behalf of all WNBA players.
"If you truly believe that black lives matter, then go and vote."
LeBron James tweeted: "We demand change. Sick of it." Former US President Barack Obama, a dedicated basketball fan, tweeted his support of the walkout.
After calling off their game against the Orlando Magic, the Bucks players released a statement that said: "Despite the overwhelming plea for change, there has been no action, so our focus today cannot be on basketball.
"When we take the court and represent Milwaukee and Wisconsin, we are expected to play at a high level, give maximum effort and hold each other accountable.
"We hold ourselves to that standard, and in this moment, we are demanding the same from our lawmakers and law enforcement.
"We are calling for justice for Jacob Blake and demand the officers be held accountable."